Free Delivery on Guilty Bangles, Cuffs and Bracelets in the UK and Ireland
Christmas 2017 Delivery Dates
All UK deliveries are still free for the Christmas period, all are tracked and/or signed for through Royal Mail Special Delivery or First Class Signed For, please ensure that there will be someone at your delivery address to sign for the delivery.
For UK orders, the last order date is the 21st of December at 11am, the parcel should be with you on the 22nd and will go by Special Delivery and will need to be signed for.
If you are placing an international order and would like to know your last delivery date, please email jo@guiltybangles.co.uk and I will let you know the latest dates, some of these are below, all deliveries are tracked and the majority are signed for.
For the majority of Europe, Canada and the USA, the last order date is the 13th of December.
For Australia and New Zealand, the last order date is the 9th of December.
The cost of our international shipping is now just £5!
All tracking codes are available on request, we cannot guarantee that your order will be delivered, there is always some element of human error and deliveries are at the whim of the relevant delivery company in the local country. We have a success rate of over 99% on deliveries in the UK and worldwide!
Delivery Info
At Guilty, we know that secure and speedy delivery is important and we send virtually all of our products by Royal Mail Special or Signed for Delivery.
Free Signed For Delivery Service
Guilty Bangles offers a Free Signed For Delivery Service on all items purchased to the majority of the Great Britain, Northern Ireland and the Republic of Ireland, you don't have to pay a penny! When you order any product from Guilty Bangles, the special delivery service is free and no delivery charge will be added to your purchase!
Free Delivery Means FREE - You do not have to pay a delivery charge!
Orders despatched within 48 hours at the LATEST excluding weekends
FREE includes signed for and special deliveries!
Why do Guilty Bangles offer free delivery?
The free standard UK delivery service offered depends on the value of the products purchased and will typically involve a standard Royal Mail First Class or 'Signed For'. Our orders are dispatched within 48 hours after purchase, excluding weekends, and are usually delivered within three working days after dispatch at the latest, typically within two working days.
If you need a really fast delivery, this is no problem as we understand that speed is important, we can usually get your bangle to you within 48 hours of order, excluding weekends.
Delivering your bangle as a present is no problem, just specify an alternative shipment address in your order. We can also send the receipt to an alternative address and include a personalised message if required as well as removing price tags.
Engraved Bangles Delivery
The same free delivery policy applies to all personalied engraved bangles supplied by Guilty. However, the delivery times are slightly longer, please allow 5 working days for your order to arrive.
International Orders
Guilty Bangles delivers to a large number of countries including the whole of the European Union and virtually all other non EU countries and Scandanavia. We are also happy to deliver to Australia, New Zealand and the USA and Canada. If you have any queries though, please contact us first and we will be more than happy to provide delivery times. Virtually all of our international deliveries are tracked so that we can ensure that your bangle is delivered. There is a flat fee of £5 for any international delivery, please choose your country in the checkout process and click on the international delivery button in the shipping segment of the checkout process.
Bespoke Guilty Bangles Packaging
We want you to enjoy your bangles as much as we do. This is why every bangle you buy from us will arrive to you in its own bespoke, Guilty Bangles branded gift packaging. Whether it's a gift for you or for a loved one, the presentation box not only protects your new bangle, but also presents it in the best possible way. Depending on the bangle you buy, you will receive slightly different gift packaging. For example, if you purchase one of our gorgeous silver slave bangles, you will receive the flat bangle box pictured below.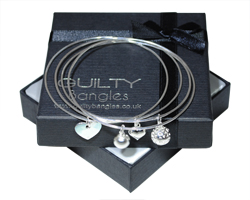 Alternatively, silver cuffs and wider silver bangles are usually packaged in one of our larger branded boxes with a cushion insert like the box below. The lid slots firmly onto the bangle and provides a long term protective box as the cushion holds the bangle in place.