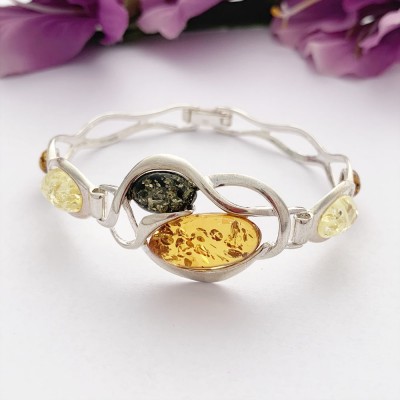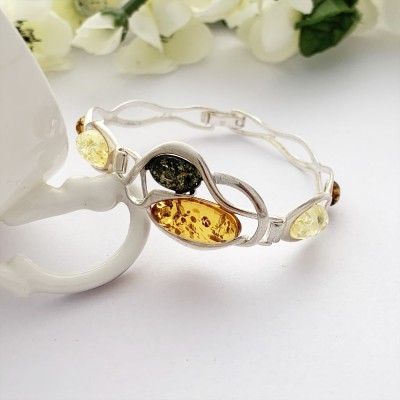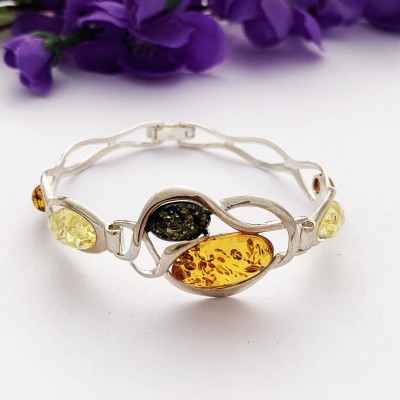 Arabella Amber Stone Bangle
The Arabella amber bangle really is a stunner, a great addition to a quality jewellery collection, this 925 sterling silver bangle features six amber stones and looks stunning on a ladies wrist.
The Arabella amber stone bangle is an exquisite sterling silver bangles featuring six individual amber stones set in an intricate sterling silver design. This really is a bangle that a woman would use for an event rather than every day wear and looks stunning on. If you want a sterling silver bangle that makes a statement and you love the amber stone, the Arabella really is stunning. It features one large amber coloured stone as the centre piece, one green stone above, two yellow stones and two further smaller amber stones.
The Arabella has a clasp opening and is suitable for a range of wrist sizes. It is made from 925 sterling silver and is UK hallmarked with six individual amber stones. When the clasp is locked, the internal shape is oval with an internal length of 58mm and width of 48mm, the height of the bangle at the largest point is 21mm and the bangle weighs 11g.