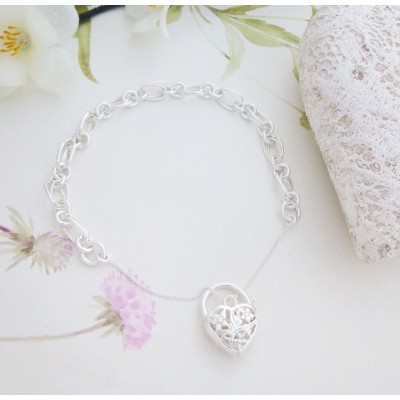 Charlotte Heart Padlock Bracelet
This is a beautifully design sterling silver heart bracelet featuring an intricately designed filigree padlock heart. A glamorous and gorgeous keep sake gift or present.
This really is a stunning and gorgeous quality silver bracelet featuring a detailed filigree padlock heart. Beautifully designed in a timeless and classical style the Charlotte Heart Padlock Bracelet is full of intricate detailing and graceful femininity.
This charming silver bracelet is made up of a combination of highly polished sterling silver oval and circular links connected to a delicate silver safety chain where the filigree heart padlock elegantly sits.
The Charlotte Heart Padlock Bracelet is a beautiful made and well-designed classical piece of jewellery. This is a sterling silver bracelet that would make the most perfect Valentine's gift for your loved one and will be a forever piece of jewellery.