Christmas 2019 Bangle Buying Guide
It's coming to that time of year where the pressure is on to buy the perfect gift for your loved one! We have a lovely wide variety of different bangle styles such as torques, cuffs and bangles to suit all budgets. But which style do you pick? And what size do you need!? Hopefully, I can explain and help you choose the perfect gift for your loved one for Christmas 2019!
Which Bangle Size?
Ok, let's start with the bangle size. All of our bangles have a wealth of information including sizing within the individual bangle page. Either within the product description or within the product specification section, you will see the size of the bangle and is measured using its internal diameter, all internal diameters are measured in mm.
In an ideal world, the person you are buying for would already have a bangle that fits them well and you would have access to this bangle. If you have access to this bangle, all you would need to do is place a ruler across the middle of the bangle and measure internally the diameter from one side to the other and this would give you their bangle size: Here is a link with an image demonstrating how we measure our bangles: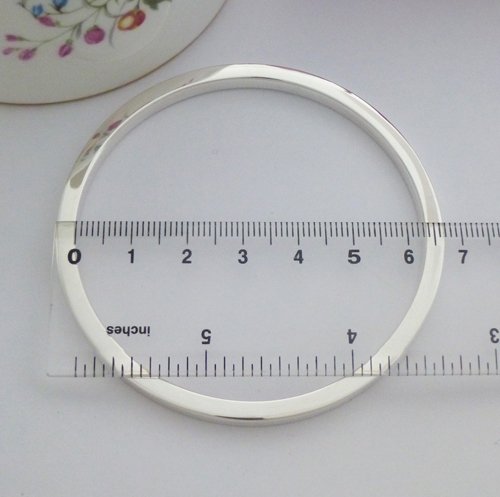 https://www.guiltybangles.co.uk/sizingabangle
As your bangle is probably going to be a gift and usually a surprise for your loved one, you may well have to take a guess at the bangle size you need to buy.
A regular size bangle measure 63mm-65mm this is the size that fits the majority of our customers and is a very good starting point if you are buying a gift for someone and you do not know their bangle size. The vast majority of fixed size bangles sold in the UK fall within this size range.
We also offer a range of XS, S, L and XL bangles, perfect for small and large wrists, click on the following links for further information:
https://www.guiltybangles.co.uk/silver/large-ladies-sterling-silver
https://www.guiltybangles.co.uk/silver/small-ladies-silver-bangles
Another safe option if buying a Christmas present for someone and you have absolutely no idea of their wrist size, is to consider purchasing a Torque or Cuff style bangle. These are open bangles and therefore as they don't need to go over the hand, they are the perfect size for most ladies wrists, our toques and cuffs are found here:
https://www.guiltybangles.co.uk/silver/silver-cuffs-torques
But let is reassure you, if you were to purchase a bangle from us and you have guessed the incorrect size, we are more than happy to exchange your bangle for a different size if available, or for a different style or a refund – please see our terms and conditions.
Quality Guarantee
All of our bangles are hallmarked 925 sterling silver. This means that 92.5% of the bangle is made of pure silver and the remaining 7.5% is made of other metals, this is usually copper. The hallmark is a legal requirement and a guarantee that the bangle has been tested at a British Assay Office and is 92.5% pure silver. The quality of a hallmarked 925 sterling silver bangles is better than a bangle which is silver plated which has virtually no value as a precious metal.
We are more than happy to offer you an extended returns policy until 9th January 2020. We completely understand that a lot of people like to purchase Christmas gifts early and therefore need to be able to exchange or return the bangle after Christmas if the bangle is the wrong size or style. Here is a link to our returns policy:
https://www.guiltybangles.co.uk/returns
Most Popular Bangles Bought in 2019
If you are still unsure which bangle to buy, here are our most popular bangles which have been bought this year!
Isabeau: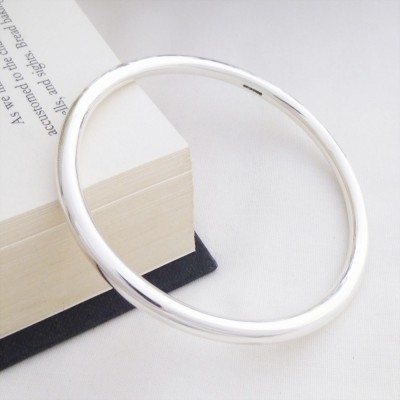 The beautiful Isabeau! This is one of our most absolute favourite bangles. Exclusive to Guilty Bangles, won't be found anywhere else! This bangle continues to be the most popular and having spoken to our customers this is why:
Great quality bangle, feels lovely.
Simple round cross section, I love it!
Solid weighty feel.
Available in different wrist sizes.
Anna: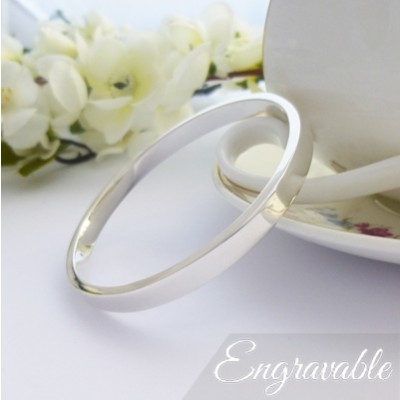 The gorgeous Anna bangle was added to our exclusive range in 2017 and has been a real hit! Here are some highlights about the Anna:
Solid silver bangle, highly polished finish.
Chunky, rectangular cross section.
We can engrave in this bangle - free of charge!
Available in different wrist sizes.
Kimberley: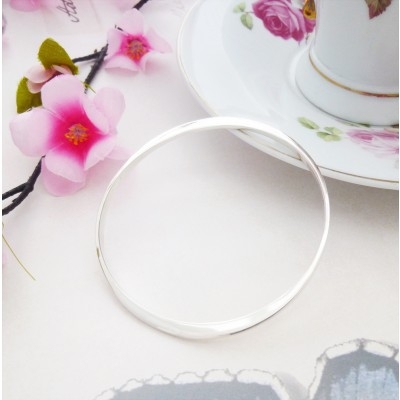 A lovely looking bangle that looks lovely on all ladies wrists! A popular bangle not only because of its look but a great price too!
Fabulous contemporary design.
Looks beautiful on and suits all ladies wrists.
A popular bangle which we have stocked for the last 4 years.
Great price!
Harper Hoop: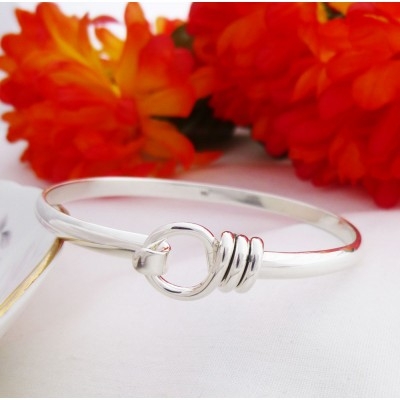 Customers love the Harper Hoop Bangle, this has been a bangle we have supplied from the beginning and it continues to be a best seller!
Interesting, beautifully designed bangle.
Unclips so you can open to make it bigger to fit over the hand.
Perfect bangle for every day wear.
A good price for a sterling silver bangle.
Ladies Torque: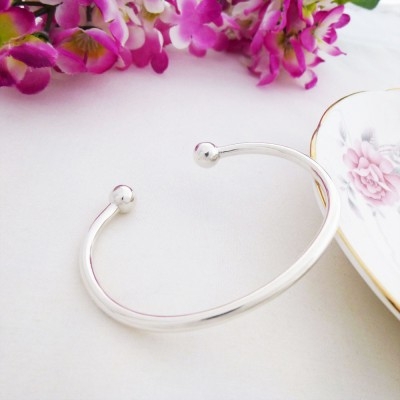 Here is another best seller! This traditional style torque bangle has always been in our top 10 best sellers list. Here a few reasons why:
A timeless, traditional style torque bangle that will never go out of fashion.
This bangle fits nearly all wrist sizes as it doesn't need to go over the hand.
Great price point for most customer's budget.
Wide Hammered Torq: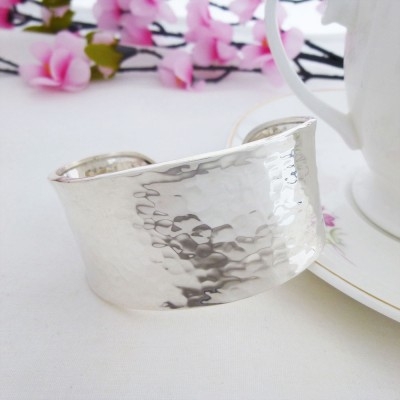 This is a bangle we struggle to keep in stock, it sells that quick! A very popular bangle that is always in our top 10. This personally is one of my favourite's in the torque range:
Lovely hammered effect on the exterior.
Looks amazing with all outfits, a gorgeous piece of jewelry.
This torq fits most wrist sizes, a great gift if you don't know their bangle size.
Alexa Torque: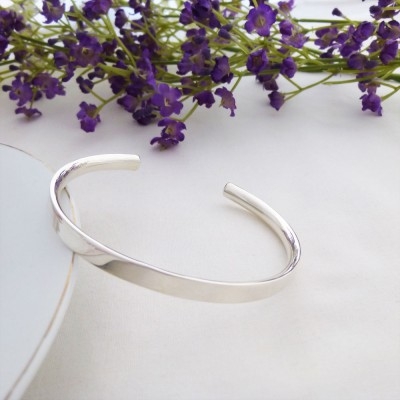 Alexa is a truly beautiful torq style bangle. It was a bestselling torq last year and has continued to be a best seller in 2018.
A quality solid silver torque bangle, handmade.
Sleek, contemporary and very beautiful.
Again as it is a torque bangle fits most wrist sizes.
Available in two different size so suitable for smaller wrists also.
Bruna: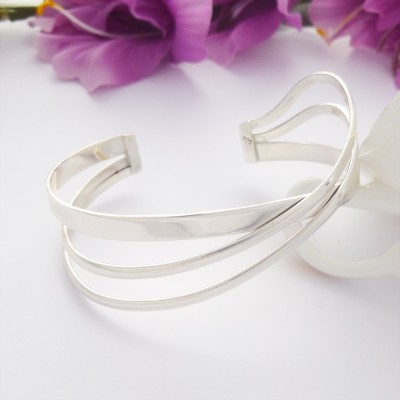 Beautiful Bruna! Added to the Guilty Bangles range in 2017, this bangle is very popular with our customers:
Very pretty cuff with a crossover design.
Suitable for most ladies wrist size.
The design style of this cuff is very popular.
All of our bangles come in a beautiful black Guilty Bangles gift box which is lined with white satin or a black pillow, at no additional cost. We can also engrave on certain engravable bangles completely free of charge if you would like to personalise your Christmas 2019 bangle. Postage is also included in the bangle price for delivery anywhere within the UK and we use Royal Mail's special delivery or signed for service.
I hope this Christmas 2019 bangle guide has helped you, however if you need any further information, please do not hesitate to contact me!
Jo x