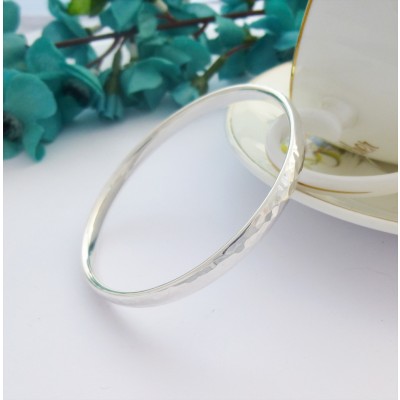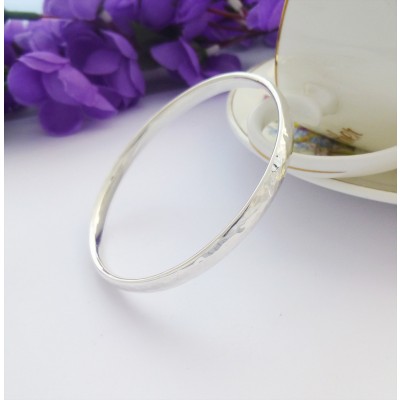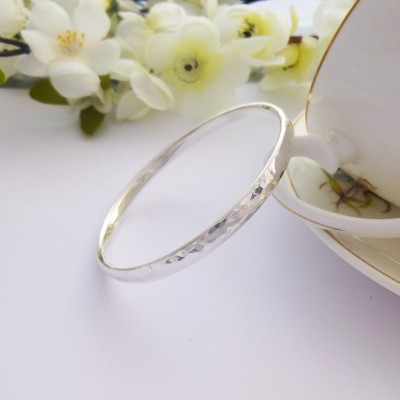 Edie Small Hammered Bangle
The Small Edie Hammered Bangle is a very beautiful highly polished, hammered bangle that has been handmade in the UK and is suitable for ladies with smaller sized hands/wrists. The Edie is the perfect bangle for a brithday or Christmas present and it looks gorgeous on. This beautiful small size ladies bangle has been hand made in the UK with a UK 925 sterling silver hallmark and is solid.
The Edie small bangle is perfect for ladies who love quality sterling silver jewellery. This bangle is a solid, medium weight, oval cross section bangle with a smooth inside surface and a beautifully hammered exterior.
The Edie is a round bangle that is approximately 6mm wide and 3mm deep with a 60mm internal diameter. This size is suitable for the majority of women with small size wrists. The Edie is exclusive to Guilty, it is hand made and has a hand hammered finish and is solid 925 sterling silver and is part of our engravable silver bangles collection.
*This is the Edie Small size bangle