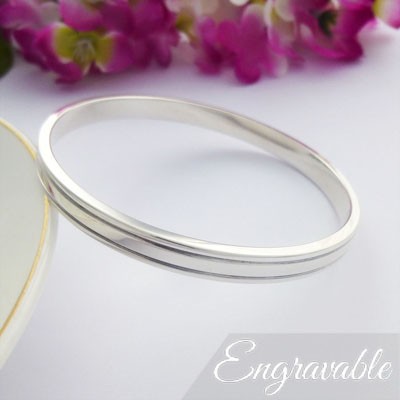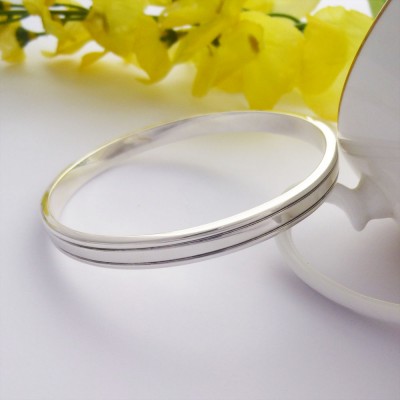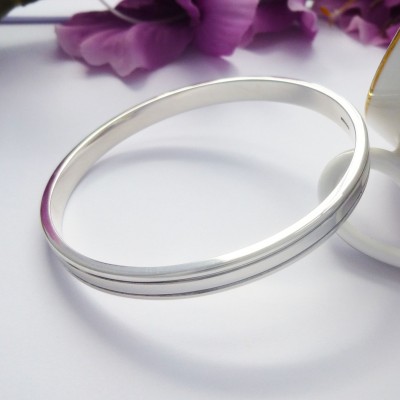 The Palmoa Grooved bangle features a wide face set with narrow groves towards the edge creating a focal point, classical and unique, something to wear every day and be proud of!
The Paloma features two narrow grooves set to the outer edges of the flat silver bangle face. Leaving a wide central space and in highly polished sterling silver, the effect brings to life a plain silver face to create contrast and reflection. The Paloma Grooved bangle is perfect for ladies that like a high quality solid bangle with a slight edge, a design that is unique and offers something a bit more!
The Paloma Grooved Bangle is stylish so that it would suit a night out, a great addition as an accessory for a special occasion, it is also simple enough for every day wear. This is yet another exclusive bangle in the Guilty collection, proudly hand made in the UK and in solid 925 sterling silver that is also hallmarked in the UK.
The Paloma Grooved Bangle has an internal diameter of 63mm, the face is 6mm wide and 3mm deep. It is a solid 925 sterling silver bangle with a highly polished finish, made to the highest quality standards for Guilty.