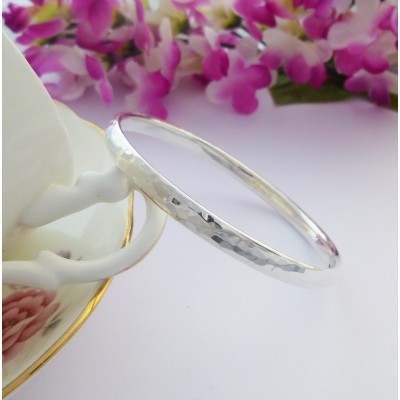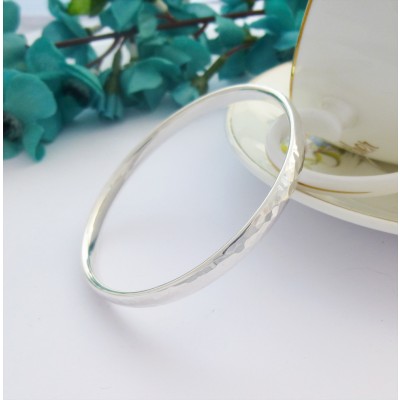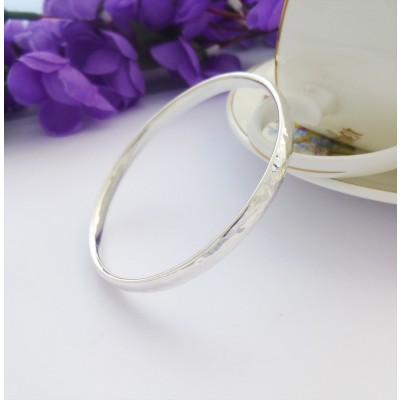 Edie Hammered Solid Bangle
The Edie is a beautifully finished sterling silver bangle, made by our silversmith with a hand hammered exterior finish and smooth, highly polished inside on an oval cross section round bangle. The Edie is perfect if you are looking for an unusual bangle that is hand made in the UK with a UK 925 sterling silver hallmark and is solid.
If you are looking for a quality bangle that can be worn comfortably all day or night with a beautiful hand hammered finish at a great price, the Edie is perfect. The Edie appeals to ladies that want a purposeful bangle that would suit work or a big night out, solid and to a medium weight, the smooth inside surface and round shape means that this is a practical as well as beautiful bangle.
The Edie has an oval cross section that is approximately 6mm wide and 3mm deep with a 63mm diameter. This size is suitable for the majority of women with standard size wrists. The Edie is exclusive to Guilty, it is hand made and has a hand hammered finish and is solid 925 sterling silver and is part of our Guilty engravable silver bangles collection.
Subject to availability, the Edie Hammered is available in small wrist, regular wrist and large wrist sizes.
*This is the Edie Regular size bangle