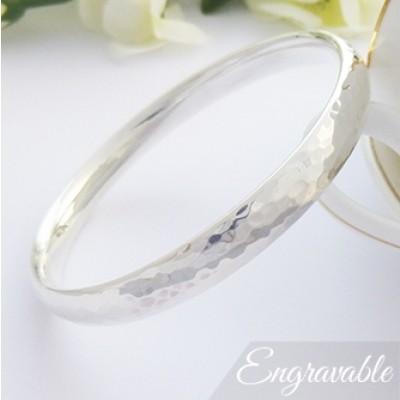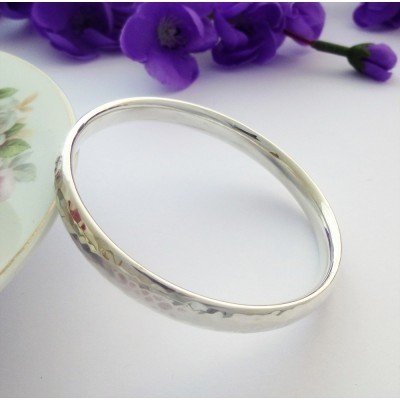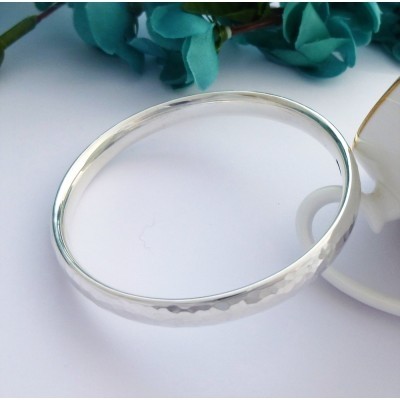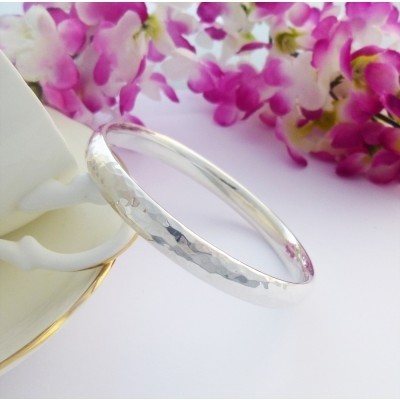 Kelly Hand Hammered Wide Bangle
The Kelly is an exquisite bangle that is made from solid oval sterling silver, it is exclusive to Guilty and features a hand hammered exterior and highly polished interior. Every Kelly bangle will have a unique finish as they are completely hand made!
The Kelly features a hand hammered finish that our silversmith completes to a fine detail. This is a slightly wider than normal bangle that is completely solid and hand made in the West Country by our silversmith. A unique high quality 925 sterling silver bangle with a great feel, the hammered finish creates a great reflection for a bangle that really stands out, perfect if you are looking for something that dazzles with the guarantee of the finest quality in both sterling silver and craftsmanship.
The Kelly has an oval cross section approximately 8mm wide and 4mm deep with an internal diameter of 63mm. Along side the stunning workmanship, this is a reasonable heavy bangle as you would expect with these dimensions. The Kelly sterling silver bangle is solid and suitable for engraving and is part of our engraved silver bangles range. The Kelly is perfect for ladies that love a unique finish on a bangle that is made to the highest standards in the UK.
Subject to availability, the Kelly hand hammered bangle is available in small wrist, regular wrist and large wrist sizes.
*This is the Kelly Regular size bangle