Silver Torque Bangles and Cuff Bracelets
The Guilty silver torque bangle and silver cuff bangle collection is here, featuring a superb range of designs from the classic traditional sterling silver torque to a collection of gorgeous silver cuff designs that are modern, classic and stylish. Our range includes solid handmade torques and best selling cuff designs such as the Alana, Bruna, Chunky and Hammered Cuffs.
All of the cuff bracelets and torque bangles from Guilty are hallmarked 925 sterling silver, all come with Free delivery and bespoke bangle boxes designed to keep your jewellery in perfect condition.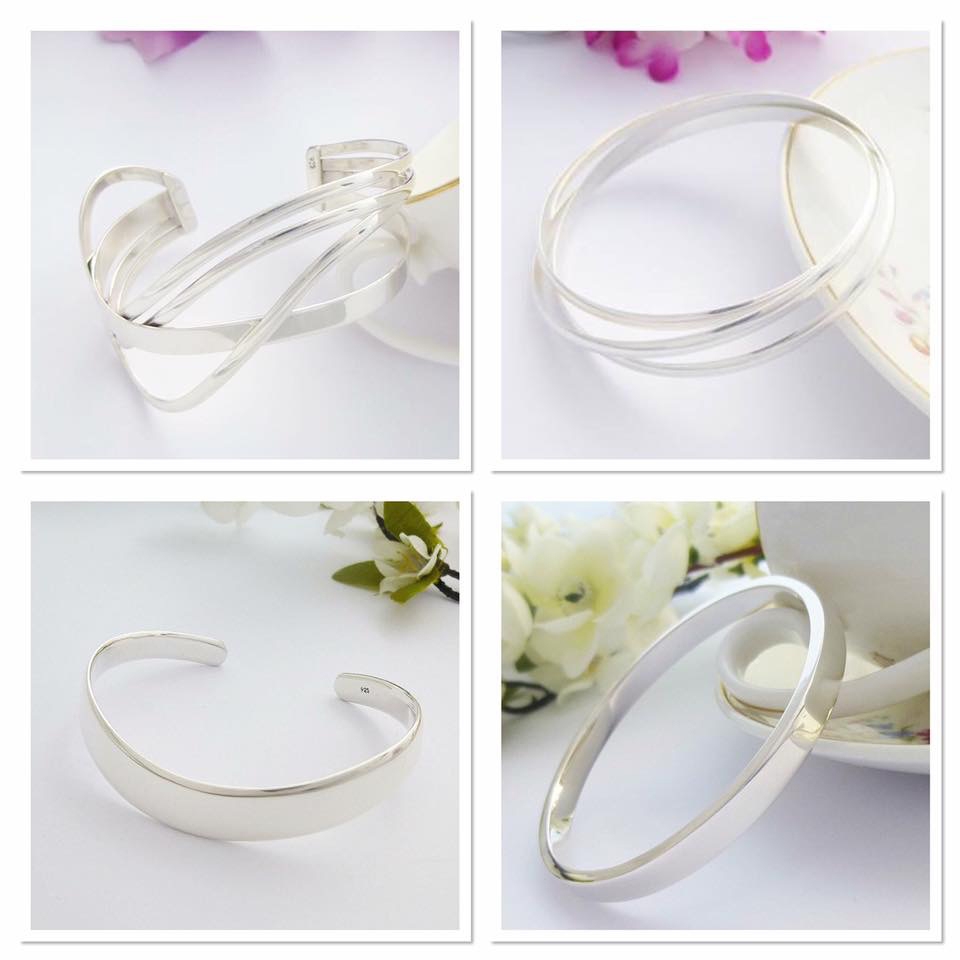 Ladies Sterling Silver Torque and Cuff Bracelet Bangles
Guilty has a great range of bangles in a cuff and torque design made from 925 sterling silver including a whole new range of solid torques and cuffs, all are hallmarked in the UK. Our women's bangles for cuffs and torques are one of our most popular ranges and provide an elegant solution as they are really easy to get on and off your wrist. This makes our torc bangles a perfect choice for those that like to wear bangles on a day to day basis. The sterling silver cuffs and torques are also incredibly popular, they are great for evening wear and for those that want a wider bangle that is easy to put on with stunning and sophisticated designs that make a perfect present and are ideal for dressing up for a big night out.
The Guilty cuffs and torques collection is designed to offer something for everyone. Many of our Guilty torques and cuff bangles are made exclusively for us by specific designers that create handmade torq bangles in the UK and all of our torques and cuffs for women are hallmarked at a UK assay office.
Why Choose a Torque or Cuff?
Many lades and indeed men prefer the fit of a torque or cuff over a solid bangle or loose bracelet, below is a list of some of the benefits that this style of bangle has to offer. Guilty has a great range of cuffs and torq bangles with a range of modern designs, perfect for ladies that love to dress up.
Open ended style is more comfortable.
Torques and cuffs are easier to slip on and off for some people with larger wrists.
Cuff bangles tend to be more fashion forward and a lot wider than standard bangles.
Cuffs have a flatter and thinner silver design.
Torques are solid and rounded for a smoother fit on the wrist
Guilty Sterling Silver Cuffs for Women
Guilty Bangles is a leading stockist in hallmarked 925 sterling silver jewellery. Our collection of cuff's and torque style bangles are a popular choice with many of our customers. Cuff bangles are open bangles and are usually wide and chunky in their design. One of the benefits of choosing an open styled bangle is that they are suitable for ladies with large or small sized wrists as they do not need to go over the hand, you just slide it on over the narrowest part of your wrist. If you are looking for a gift for someone special and are not sure of their wrist size, then a cuff or torque could be the perfect choice.
Our cuffs come in many different designs ensuring that there is a sterling silver cuff that suits everyone. The Wide Hammered silver Torq has been in our 'Cuffs and Torques' collection from the very beginning and it still remains one of our most popular bangles today. The beautiful hammered effect creates a stunning finish on this cuff and when it catches the light it makes it a 'stand out' piece of jewellery. The wide hammered sterling silver cuff is a true example of a must have accessory, it is a perfect match with a summer dress or a little black party dress.
Alternative Designs for Ladies Torques
We also have a large collection of silver torques in many different designs. The Traditional ladies Torque is classic in its design, with the round ball ends and we have two different traditional torques in our collection to suit different budgets. If you prefer a torque bangle with more of a contemporary twist, we have many options for you to consider. The stunning Rebecca Torque bangle has been handmade in the UK by one of our silversmiths and is a lovely example of a slight twist on the traditional torque. The Rebecca Torque is solid silver like the traditional torque but has contemporary, minstrel shaped, solid ball ends, this adds a modern twist to this lovely torque bangle.
If you prefer your silver torq bangle without the traditional ball ends, then we have a stunning collection to suit all budgets and individual style preferences. The Kendall silver torque is a great example of a hallmarked sterling silver torque that is not traditional but elegant and chic. It is a simple design, featuring a gently hammered exterior which adds a lovely finish to this torque. The Sapphire torque bangle is also a contemporary silver torque. This torque has a gorgeous, highly polished silver finish with a gentle curve in its silhouette, making it a sophisticated bangle.
Cuffs and Torque style bangles can come in a variety of designs, from delicate to bold pieces of jewellery that will either enhance or complete your style. We love our large chunky sterling silver cuff, from wrinkly and hammered textured cuffs to wide cuffs which are created using ribbons of sterling silver. The Bruna and Alana silver cuffs are examples of silver cuffs designed using ribbons of sterling silver and these were added to the Guilty Bangles collection in autumn 2016. Both of these bangle are similar in design with the Alana being the chunkier of the two cuffs. I love the diversity of these sterling silver cuffs and they are appealing to both young women and older women, in fact my mother in law has the Alana Cuff and it looks fabulous on her!
Hammered and Textured Silver Designs
Our textured torques also include the Katie Hammered Silver Cuff and the Enid Textured Cuff. Both of these cuffs are hallmarked 925 sterling silver. Enid has a lovely crinkled, textured effect which is unusual, bold and a real statement piece of jewellery. The Enid is definitely a cuff designed for the more contemporary silver jewellery lover. The Katie hammered cuff is a cuff which I would say is more traditional in its design. It has a lovely rounded exterior which has a delicate, hammered effect. This cuff could be worn during the day or an accessory to your evening wear.
Our range of men's solid silver torques are of the highest quality and handmade by the Guilty Bangles silversmith here in the UK. Torque style bangles are the best fitting bangle design for men as men's hand sizes vary massively therefore finding an average closed bangle size if almost impossible. Our men's torq bangles slip over the narrowest part of the wrist avoiding travelling over the hand completely. Within our men's range of solid silver torques we have traditional style torques and more modern styles. We love the surfer torque which has an interesting twist design and solid ball ends. A great men's torq for a more modern, sporty type gentleman.
We are pleased to offer our customers a wide variety of hallmarked 925 sterling silver cuffs and torques and we always try to keep up with the latest jewellery trends.